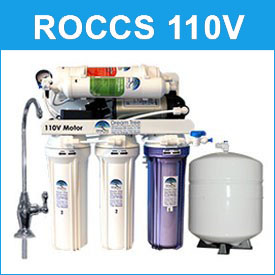 Product Information:
Dream Tree's ROCCS (Reverse Osmosis Ceramic Conversion System) Including a 110V Motor is ideal for filtration of well water or a municipal water supply that contains heavy metals or other challenges that might require more power. For many years reverse osmosis (R/O) has been the most popular option to remove impurities from the water we drink. Dream Tree has taken the reverse osmosis process and perfected it by adding a series of filters after the R/O process.
These filters take the dead, acidic water created through the R/O process and bring it back to life with our patented ceramic conversion process. The ROCCS is comprised of six stages of filtration for optimum purification. The system begins with a sediment filter to remove larger particles and is followed by two carbon filters and a membrane filter that completes the reverse osmosis process.
The purified water is then treated further by a taste and odor filter and an antioxidant-alkaline filter to create water that makes you feel good! The reverse osmosis portion of the Dream Tree ROCCS is among the most efficient and effective in the marketplace today, but the unique process we use to bring that water back to life separates the Dream Tree reverse osmosis system from all the rest.
The ROCCS is designed to produce up to 50 gallons per day; it averages to approximately 1 gallon every 30 minutes. We're confident that every Dream Tree product you choose will have a major impact on your well being; the key is to provide the right kind of water for your family.
Please be advised that the ROCCS does require professional installation but maintaining the ROCCS unit is quite simple once it is installed and requires no special skills. Changing the filters is simple and we provide a suggested maintenance schedule so you'll always know when it's time to change each filter.
ROCCS installation must be performed by a licensed plumber or the warranty will be voided.