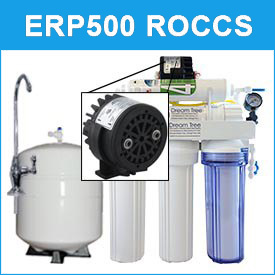 Product Information:
ROCCS ERP – 1000 system utilizes 6 stages of filtration which occur in the following order:
1) Antibacterial Sediment Filter
2) GAC Filter
3) Block Carbon Filter
4) 100GPD Membrane
5) Water Alienization
6) Post Carbon Filter (For taste and odor).
As a result of this sequence in conjunction with new pump technology, this system does not require any electricity. It is powered by energy from brine water. This system improves recovery rates by as much as 400% and reduces wasted water by as much as 80%. This enhances the systems contaminant rejection allowing the system to work effectively with inlet water pressure as low as 30 psi. This increases membrane life, and lowers TDS creep. This also allows you to fill your tank up to 4 times quicker.
***INSTALLATION*** The ROCCS ERP – 1000 installation must be performed by a licensed plumber or the 1 year warranty will be voided.