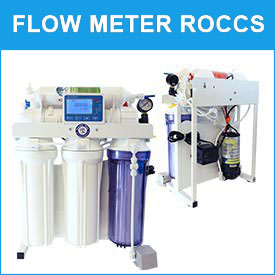 Product Information:
The Flow Meter Can Monitor & Manage 4 Filters Life : Sediment Filter , Carbon Filter, Alkaline Filter, Post Carbon Filter. System Alarms Automatically When Filters Reach The Time Life That You Set.
Detect And Control High/Low Pressure Switch. Monitor Water Quality: You Can See The TDS Of Pure Water All The Time. If TDS Becomes More Than 5X10PPM, System Will Alarm, And Every 6 Hours Open Flush Solenoid Valve To Flush Ro Membrane 20 Seconds. Monitor Real Time Flow Rate. Built In Temperature Sensor, Display Temperature Of Environment.
Display Total Flow Liters, System Will Alarm When Total Flow Reach To The Value That You Set It & Display Flow Of Life Time. When Flow Sensor Is Working, Faucet Dynamic Display On Screen. Flush Solenoid Will Open To Flush Ro Membrane In The First Install The ROCCS To Prevent Water Is Coming From Filter To Go To Inside Of Membrane & Open To Prevent The Particular Of Carbon To Go Inside Of Membrane.
Th Diaphragm Boost provide reliable inlet pressure for efficient membrane utilization and are ideally suited for continuous duty. Pump 24D-CE, Open Flow 0.25 GPM 0.95 LPM , VOLTS 24VDC, Pressure Setting BY-PASS, Self Suction Height 2M. The Stop Leak Detector will detect if there is moisture on the surface where you set this unit. Set within a few inches of your ROCCS unit. ROCCS installation must be performed by a licensed plumber or the warranty will be voided.